Big Star Branding is no stranger to talent!
We have a large team of brilliant individuals that have dedicated time, hard work and their creativity to the company. This month we would like to give a special shout out to our very own designer, Tim Richter.
Tim has worked at Big Star Branding since early 2012, and he has been a huge asset to the company.
Thanks to his previous sales experience, he started in the Sales department and, from there, has "stair-stepped" his way into the Art department.
After everyone saw just how talented he is, it did not take too much time for him to settle into the role and make it his own.
In late 2017, Tim and his wife, Emily were blessed with a beautiful, little boy with just as big of a personality as his parents!
Looking back at the pivotal moments leading up to Tim's career, he says he was always a doodler and got more into his personal artwork in high school.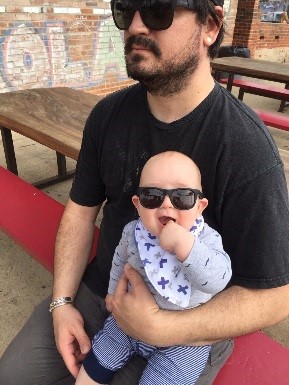 Tim Richter in the wild
During his senior year, even given the opportunity to have early release, he decided to use that extra time to take more art classes and hone his skills. To further his knowledge Tim attended Columbus College of Art and Design.
When asked what his favorite part of working with the company was, Tim stated; "I like Big Star Branding because of the people and the set guidelines of the artwork we create." Here he has found an opportunity that allows him to design works without getting burnt out on his own artistry.
Outside of work, he can let his creativity flow.
Tim does some freelance work, commission projects, and even enters local art shows. He loves painting, drawing and digital artwork.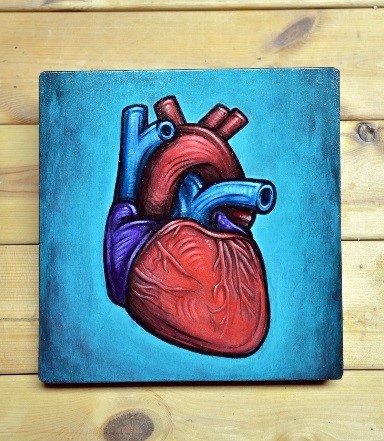 Tim Richter - Jamie's Heart
Aside from his artwork, Tim also enjoys riding bikes, skateboarding and playing Kendama, a popular Japanese game.
Tim is a great asset to the Big Star team!
Our Art Department has the experience to make your artwork stand out from the crowd and reach your potential clients. Stop by or call Big Star Branding today to see what Tim and the rest of our Art department can do for you!
Here are some of Tim's Favorite Items from our more than 1,000,000 imprintable products: