Bexar County's Rodeo Breakfast
This past weekend, Bexar County held it's 3rd annual Rodeo Breakfast!
The breakfast is a way to kick off the San Antonio Stock Show & Rodeo and celebrate the spirit of rodeo season.
The event served over 10,000 free tacos and included games, music and a best dressed contest for the South side of San Antonio.
The Rodeo Breakfast was influenced by the Cowboy Breakfast that has been held annually on the North side since 1979.
San Antonio Police in Rodeo
Hosted by the Bexar County Commissioner of Precinct 1, Sergio "Chico" Rodriguez, the event is a way to thank and give back to the South side community.
Rodriguez, who is running for re-election in 2020, wanted to give constituents the opportunity to participate in a fun, family-friendly event.
Big Star spoke with Angelita Alvarado, the Chief of Staff for Commissioner Rodriguez, who plays a big role in planning the breakfast every year.
Attendance doubled in comparison to last year, and the number of tacos served grew from 5,000 to over 10,000.
Alvarado spoke about how it takes about 6 months of planning to organize the Rodeo Breakfast. She went on to give a special thanks to the sponsors and volunteers that helped keep the event free for the community.
Potential volunteers can contact Angelita Alvarado to be put on the volunteer list!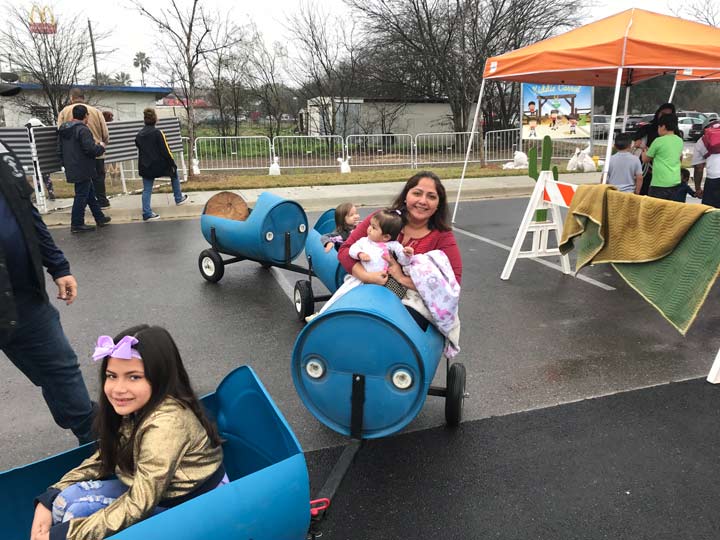 San Antonio Rodeo Rides
For the future of The Rodeo Breakfast, Angelita's vision is a safe, fun event with free food and free entertainment for the whole family.
She hopes the breakfast will get bigger and better each year and will one day be as big as the Cowboy Breakfast.
Big Star Branding worked with Alvarado to make shirts for the vendors and volunteers at the breakfast.
She commended our sales rep Gary Lopez on his great assistance in making the shirts perfect and working around hectic schedules.
Alvarado also added, that the shirts got a lot of positive feedback at the event.
Big Star Branding looks forward to working with Bexar County in the future.
Shirts for Vendors and Volunteers